While white frames were a staple for decades, the popularity of black window frames is surging. They aren't just trendy — they're the new design basic that's here to stay.
Whether your home is modern, traditional, or transitional, striking black window frames make a statement, ensuring your home interior and exterior looks up-to-the-minute and stylish, boosting your curb appeal and home value. They work on Farmhouses, Contemporary styles, Modern homes, and more.
Read on to discover how installing black interior and exterior windows will complement your home, making it look striking and appealing:
Black Window Frames Enhance Your Home's Looks
1. Maximize your curb appeal with stunning black window frames
Bring out the best in your home exterior's looks with striking black window frames. Their neutral color pairs well with various siding materials, including stone, brick, vinyl, and fiber cement. Black windows elevate your curb appeal to the next level, adding a feeling of luxury and increasing your home's value.
2. Create a striking contrast
Bold accents make your home stand out, and black window frames provide a stunning contrast that oozes with personality. Create modern aesthetics both inside and outside your home with black window frames. They look great in a modern kitchen, a transitional living space, or a sophisticated master suite delivering a personalized style to enjoy daily. Combine black window frames with white or light-colored furniture, and make a stylish design statement you'll love for years.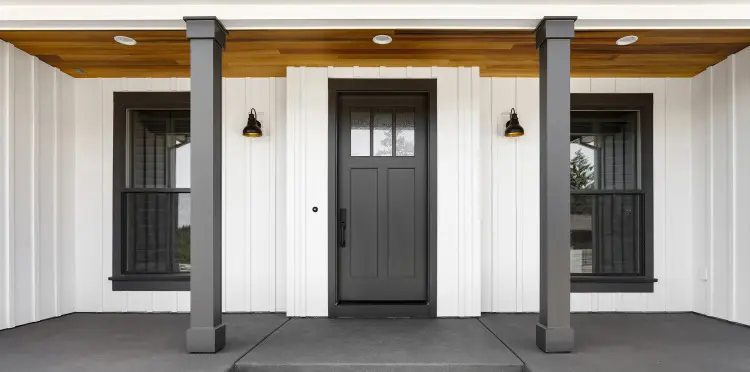 3. Design an impressive focal point
Framing artwork you love draws attention to what is within it. And framing your view of the outdoors with sleek black windows draws attention to your view, making it a refreshing focal point in your home. They help focus attention on the exceptional views from every room while creating a slimming effect. They accentuate the glass, making it appear larger.
4. Enjoy the durability of fiberglass—in black!
Durable fiberglass window frames appeal to homeowners because of their reliable performance and ability to withstand weather elements for years. They don't become vulnerable to things like moisture intrusion, wood rot, or pest infestation like wood does, and they require very little maintenance or repairs. And they come in black, making them even more appealing.
5. Skip the need for costly window treatments
The statement black frames make is so distinct that often it's not necessary to add shades, blinds, or curtains. You can skip the need to invest in window treatments because black frames look so fabulous. Show off your black windows rather than hiding them behind costly treatments where they can't be seen. If it's not practical to exclude window treatments, consider simple roller shades in white or natural bamboo to complement the minimalistic character of black windows.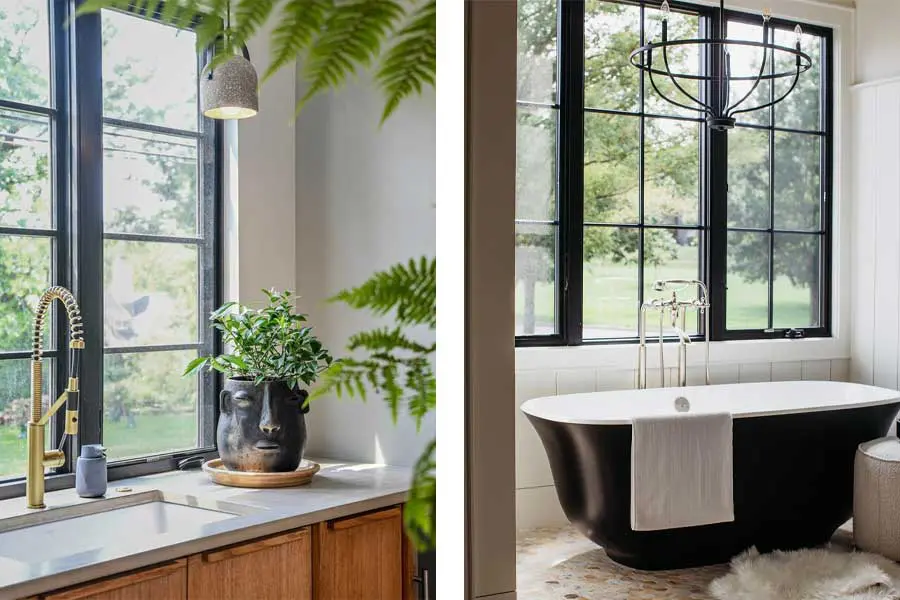 6. Omit the surrounding trim for a modern look
While black frames don't have to be paired with a modern home, they enhance its looks. In fact, if you skip adding the surrounding trim to your black windows, you'll create a clean, sleek look (called a drywall return) that allows your windows and the views they outline to take centerstage.
7. Choose to draw attention to them or downplay them
With black windows comes flexibility. You can highlight them on your home exterior or downplay them depending on your desired aesthetics. They go with any color and stand out more or less depending on what they are paired with. When combined with a light-colored exterior, your windows will pop and become attractive focal points. When added to dark exterior and trim, they don't draw attention to themselves, leaving the focus on the whole house.
8. Notice that several black windows come with fade warranties
You don't have to worry about your black windows fading. They come with fade warranties that give you peace of mind knowing your windows will maintain their crisp, clean look throughout their lifespan. They are low maintenance because you don't have to paint them. Instead, you can enjoy doing the things you love most.
9. Get a timeless look for your home—inside and out
Black is back, and it is here to stay. It's elegant and goes with everything. Regardless of your home's style or color, black will make it look fabulous for years. It has gained popularity so consistently that it's expected to be the new standard rather than a trend that comes in and goes out over the years. So it's safe to say you'll have a timeless look with black windows that you'll enjoy for years. You can count on their classic look to enhance your home's look over the years, making it attractive to potential buyers when it comes time to sell.
10. Complement your home interior with sleek black windows
Black windows look fantastic inside your home. They pair well with exposed brick, neutral furnishings and natural woods. They complement white, gray, or taupe walls, and also look amazing with green, aqua, blue, gold, or rust. They work well with wallpaper in bold patterns too, giving you plenty of options when it comes to your home's interior design. Once you add black windows, sprinkle a bit of black throughout your home interior. Add some throw pillows, vases, and frames in stark black to pull it all together.
Get Black Replacement Windows to Make Your Home Stand Out
To get the most out of replacement windows, you need to choose a top manufacturer and have them installed by a team of professionals (like us!) who have mastered the manufacturer's best practices, ensuring you get the top performance you deserve for the lifetime of your new windows.
At Approved Contractor, we are an Andersen Window Certified Contractor so our Los Angeles and San Diego teams are trained in the highest industry standards in window installation.
Take a closer look at our window services.